BEETHOVEN 21
Characters – 6 male, 5 female
National Theatre "Ivan Vazov" premiere, Sofia – 30.03.2007
Directed by Mladen Kiselov
Events connected with Bulgaria's current criminal privatization gathers together in one place people who otherwise would not easily stand each other: a theatre director, known his nonconformist behavior during the totalitarian regime of the past; a former athlete – now a drug dealer; his self-assured associate - a young businessman who comes from the former nomeclature circles; an ambitious young director – she is now close to central character; a has been provincial actress; a successful turbo-folk singer; a fan of that music; a half-wit candidate for television fame. A large factory is privatized in the name of an elderly pensioned teacher of literature who has no inkling of this and is already suffering from sclerosis. She is the aunt of the director and grandmother of the young businessman. She left her husband in the past who was a public prosecutor in crooked political court cases. The two men who have made the criminal privatization act as theatrical benefactors. This is the background against which the existentialist crisis of the director Dimitar Sedlarov is played out. In the past he attempted to do socially significant productions. Now this type of the theatre has very little chance of realization. The young girl's love for him only deepens his feelings of entrapment. But Sedlarov still has enough energy to provoke the two criminal associates and this leads to the unraveling of a quick succession of tragicomic situations.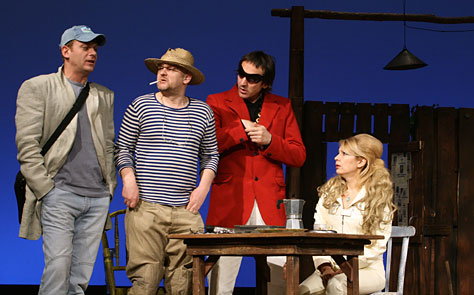 National Theatre "Ivan Vazov", Sofia, 2007, Directed by Mladen Kiselov
Yulian Vergov, Valentin Ganev, Dejan Donkov and Emanuella Shkodreva
Konstantin Iliev's play Beethoven 21 is a dramatic comedy, a contemporary mixed genre in which the author has created lively characters, unexpected, angular, very Bulgarian. The playwright is not afraid to continue an important tendency on Bulgarian stage, that of a socially relevant theatre, without which the commencement of social changes in this country would have been impossible.
Мladen Kiselov "Тrud", 20.01.07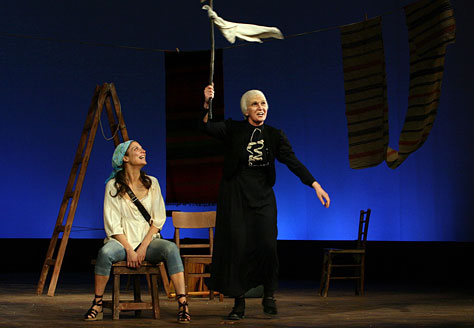 National Theatre "Ivan Vazov", Sofia, 2007, Directed by Mladen Kiselov
Teodora Duhovnikova and Maria Kavardzhikova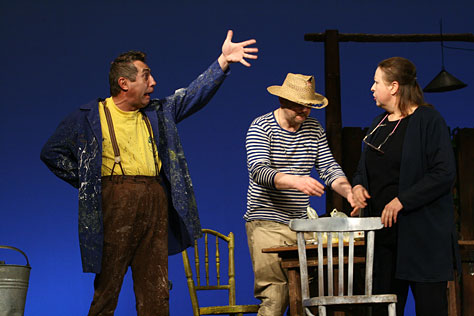 National Theatre "Ivan Vazov", Sofia, 2007, Directed by Mladen Kiselov
Valentin Tanev, Valentin Ganev and Vancha Doytcheva