THE MOUSY KING
a puppet play
The Twentieth UNIMA Congress and World Festival of Puppet Art in Chengdu, China, May-June 2012. A part of the puppet performers and crew of "The Mousy King", a "Konstantin Velichkov" Theater production, after receiving the Award for Excellent Plastic Arts and The Award For Excellent Design.
This is tale addressed to the grown-ups of the long-gone year of 1968. Three decades later Emir Kusturica made his film Underground on a similar subject.
The state of The Mousy King is to be found in the underworld that is completely isolated from the surface world. The true employees of the dictator-king are diligently on the look-out so that no dangerous ray of sun enter the kingdom of darkness. A symbol of the all-seeing and all-encompassing power is the Green Snake, whose inaccessible nest is the king's crown. But a little girl that has by chance entered the underworld takes from the head of the caricature of a king the crown mistaking it to be a funny looking hat. Finally what turns out is that the all-encompassing power of the Green Snake is a sham and that the dictatorial power, which all think is to be eternal, collapses for in a few short minutes under the laughter and cheering of the people of the underworld.
In the times before 1989 the stage production of this play proved out of the question.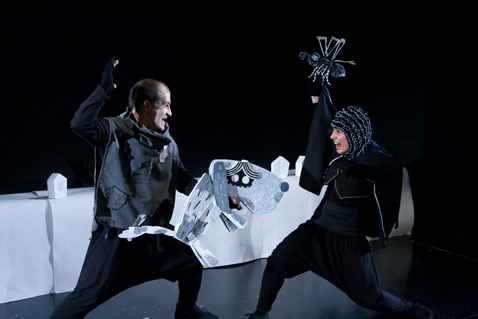 Drama And Puppet Theatre "Konstantin Velichkov", Pasardjik, 2010,
Directed by Katja Petrova, Designer Rin Jamamura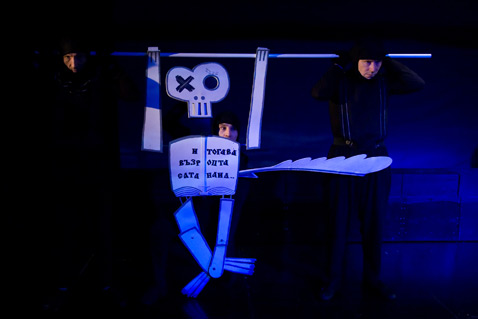 Drama And Puppet Theatre "Konstantin Velichkov", Pasardjik, 2010,
Directed by Katja Petrova, Designer Rin Jamamura
It is published in the Collected Plays of Konstantin Iliev (Red Wine for Goodbye, Odysseus Travels to Ithaca,The Mousy King), Publishing House "Bulgarski pisatel", Sofia,1995,
ISBN 954-443-130-6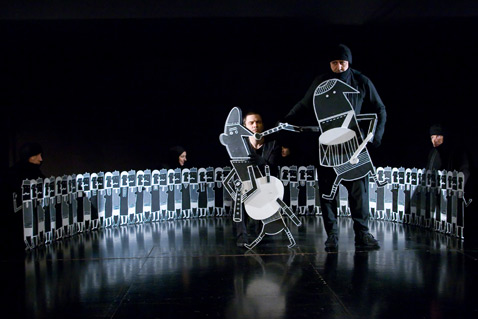 Drama And Puppet Theatre "Konstantin Velichkov", Pasardjik, 2010,
Directed by Katja Petrova, Designer Rin Jamamura