WITHOUT YOU IN OCTOBER
Characters – 9 male, 5 female
First production – Drama Theatre – Pleven, 1974
Directed by Andrey Kaludov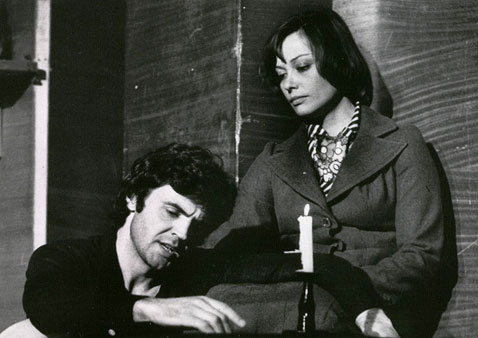 Drama Theatre - Plovdiv, 1977 / Directed by Lyuben Groiss
Tsvetana Maneva and Mladen Mladenov
In a mountain hotel a young officer of Bulgaria's investigative militia unexpectedly meets a girl who had, years ago, suddenly left him and had disappeared without any reason given. Now she is staying at the hotel along with a person who is the object of a criminal investigation. Gradually the story of a sexual blackmail is unravelled. The person in question who is under investigation – a high ranking government official – has taken advantage of the dead-lock in which the girl finds herself to involve her in a criminal affair. One of the factors for the girl being brought to this desperate state that has lead to the brutal blackmail is the young investigating officer – in the past a poet of some promise. The love that once again is enflamed between the two is short lived, for everything ends in a murder and a suicide.
Due to its markedly satirical register the production of this play in Bulgaria's theatres was hindered a number of times during the 1960s and 70s.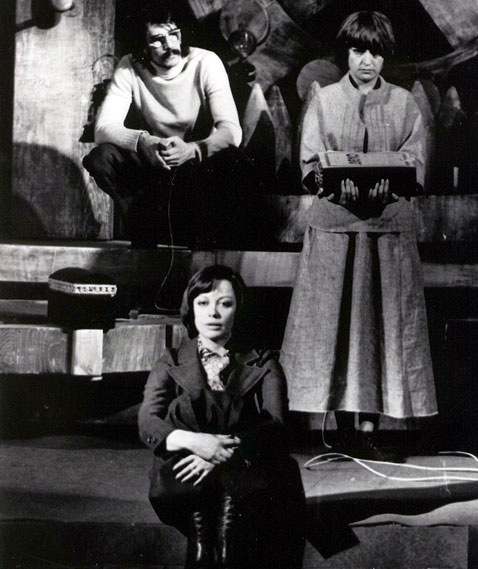 Drama Theatre - Plovdiv, 1977 / Directed by Lyuben Groiss
Javor Milushev, Tsvetana Maneva and Tsvetana Tzvetkova
The domineering wise Maritsa Angelova, in her own way a closed in person, an untold reproach, a voiceless accusation, broke her silence at given moments and declared in a long and passionate monologue her non-rhetoric protest against the egoists, the scum, the careerists. And then came the promise of her kiss that would draw blood, as the testimony that we are all dedicated to love and hate with all our might.
Lyuben Groiss, about the performance of Tsvetana Maneva in his production of «Without You In October», Drama Theatre – Plovdid, 1977, «Kultura» newspaper, 28.01.1994