EASTER WINE
or
"THE ACCUSATIONS MADE AGAINST THE HOLY DEACON IGNATIY LEVSKY AND THE DISTINGUISHED GENTLEMEN OF LOVECH BY KRUSTYO TOTEV NIKIFOROV IN THE «HOLY VIRGIN» CHURCH OF THE LOWER PART OF TOWN"
Characters – 2 male
First production – Drama Theatre Sofia, 1980
Directed by Leon Daniel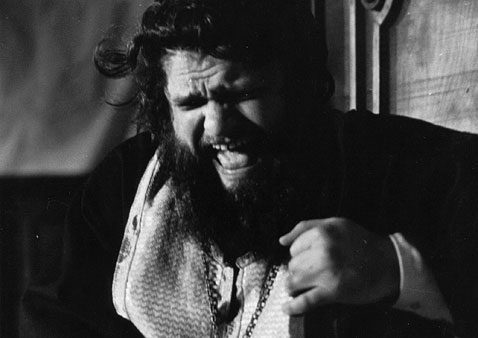 Drama Theatre – "Sofia", 1980 / Directed by Leon Daniel
Georgy Miladinov
It is Easter and the priest Krustyo Nikiforov is alone in the empty church Holy Virgin. He has prepared the Holy Communion but even the deaf sexton refuses to accept it from his hand. For it may contain poison. Murder by poisoning is how the folk of the town of Lovech want to revenge the priest who is accused of betraying to the Turks in 1872 Vasil Levsky – the organizer of Bulgaria's National Liberation Movement. In a monologue that goes through many dramatic twists and turns the priest Krustyo reveals the tragedy of the individual finding himself between the imperatives of revolutionary violence and the postulates of Christian morality.
The play was performed continually for ten years at the Drama Theatre Sofia (1980 – 1990) and nine years at the National Theatre Ivan Vazov (1993-2002). It has been produced at almost all Bulgarian professional theatres.
It received the award for playwrighting at the Second National Survey Of Chamber Theatre Productions, 1981.
It is translated into German.
I directed Easter Wine in three different theatres with completely different actors and I produced it feeling every time that maybe I have exhausted everything hidden behind the words… And when I saw Ivan Dobchev's production I felt that the every good place is like a good well – the more you draw from it, the more water there is in it. I feel the same way Nirvana, I want to keep directing it again and again. It is a pleasure to have to work with well arranged words that contain more than what they are saying… The secret is in the arrangement.
Leon Daniel in the introduction to "Plays", Konstantin Iliev, Publishing House "Bulgarsky Pisatel", 1995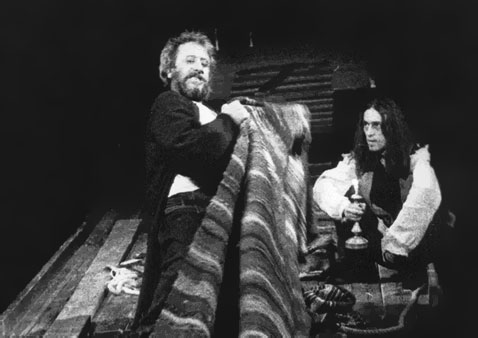 National Theatre "Ivan Vazov", Sofia, 1993, Directed by Ivan Dobchev
Velko Kunev and Tsvetan Alexiev
After the performance ends it is more natural to keep silent rather than to talk. It is a rarity to be touched by the wing of the truly tragic.
Veneta Doycheva "The Fury of Desecration" a review about the production at the National Theatre "Ivan Vazov" of "Easter Wine", season 1993/94, in the "Standart" newspaper, 07.02.1994