RED WINE FOR GOODBYE
Characters – 4 male, 3 female
First production – Bulgaria's Army Theatre, Sofia, 1990
Directed by Leon Daniel
The "Bulgarska Armiya" Theatre, Sofia, 1990 / Directed by Leon Daniel
Yosif Surchadzhiev and Meglena Karalambova
A love story at a time of exhausting tensions on the verge of the collapse of the Berlin Wall. He is a man of letters, critical of the political system; she – a talented actress, going through a rather void of meaning period in her career. The two, both in the clutches of simultaneous spiritual crisis, are trying to put an end to their relationship, feeling that they have lost their self-respect and self-confidence. According to an agreement made at the beginning of their love affair if a bottle of a certain brand of red wine is put upon the table by one of the two, that means that the relationship is to be broken off without any explanation needed. Now the bottle is on the table but things will not go without an explanation. Because both feel the burden of the need for confessing. Confessing one betrayal and one infidelity. As well as the bitter realization of how hard it is, under certain circumstances, to remain whole as an individual.
First produced at Bulgaria's Army Theatre (season 1989/90, directed by Leon Daniel)
Produced as a radio play by ORF - Austria's National Radio, 1993
Translated into German.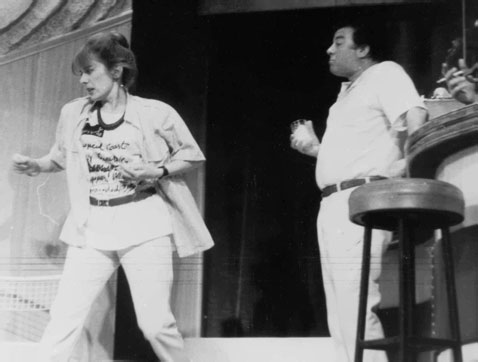 The "Bulgarska Armiya" Theatre, Sofia, 1990 / Directed by Leon Daniel
Meglena Karalambova and Stoyan Stoev
I could not call him somebody acquainted with the human soul, because being acquainted is something secondary, he is someone who senses, understands and becomes one with the human soul. This is not an ability gained through dexterity but a talent given to him from above, a spark from the gods, as is the expression. For me - the greatest psychologist among Bulgaria's contemporary playwrights. And when it comes to the question of the absurd. This is rather a case of the absurdism of Chekhov, rather than that of Beckett or Ionesco, it is more earthy, I could call it even psychological absurdism. Have you ever noticed how his characters communicate, in plays such as The Window or his latest – Red Wine For Goodbye?
Daniela Strelkova, reviewing the production of «Red Wine For Goodbye» at Bulgaria's Army Theatre, season 1989/90, «Trud» newspaper, 10.05.1990