ODYSSEUS TRAVELS TO ITHACA
Characters – 9 male, 4 female
First production – Drama Theatre – Burgas, 1984
Directed by Mihail Subev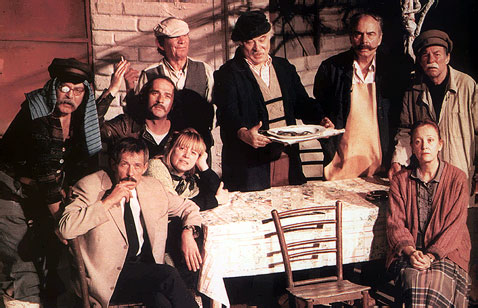 The "Bulgarska Armiya" Theatre, Sofia, 1997 / Directed by Leon Daniel
A crime story full of irony, its subtext being a non-sentimental appeal for more humanity in human relations.
An elderly man is accused of murdering his neighbour – a lady, also elderly. Actually, simulating suicide by hanging he was the reason for her dying of shock but all of this happened in such a comical and absurd manner that he is ashamed to admit any of it. In the small, not as yet suffocated by migration, village the inspector unravels some other, not always comic stories. The main themes of the play are loneliness, the bitter ironic realization of the impossibility of the achievement of social utopias, the premonition of the approaching great social upheavals.
It has been staged (by 1997) in 16 Bulgarian professional companies and at the Jan Kochanovski Theatre in Opole, Poland.
Awarded at the Eighth National Survey Of Bulgarian Drama And Theatre.
Translated into Polish, Russian and Macedonian.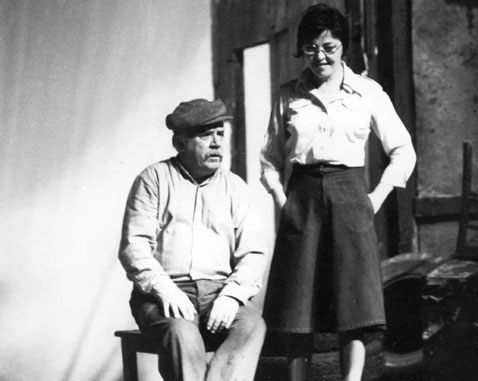 National Satire Theatre, Sofia, 1986 / Direcetd by Ivan Dobchev
Georgy Kaloyanchev and Katya Paskaleva
Konstantin Iliev's plays [...] from one point of view seem classically clear and logical but from another – the inner evaluation of the exhibited crisis, that have already been discussed, open up misunderstandings and misconceptions in the relationships that lead to parallel plot levels. In this sense they are something like suitcase-plays that have a secret compartment where, when opened and performed, the hidden needs to be revealed. In Odysseus Travels To Ithaca, for example,  the crime story in the village plays a central role in the plot with its inception, conflict and conclusion, the use of mythological link to Odysseus in the action is a parable – it contains the moral problems, while actually the contradictory motivations in the situation of the characters and their fates, crossing a point between the social and the intimate, reveal themselves to be the true scene and action.
Violeta Decheva, «Lik» magazine, №8, 2005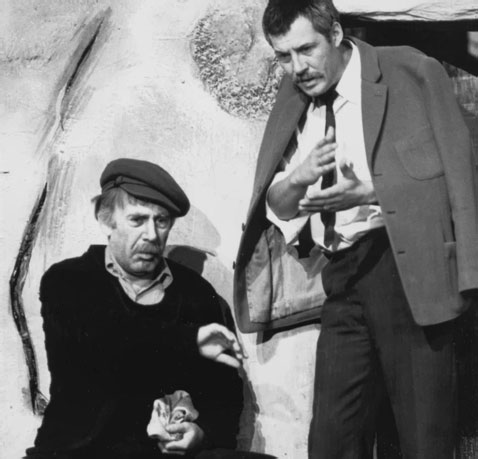 Drama Theatre "Konstantin Velichkov", Pazardzhik, 1996, Directed by Leon Daniel
Ivo Rusev and Miroslav Kosev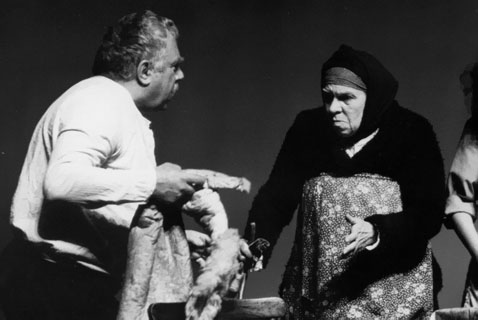 National Satire Theatre, Sofia, 1986 / Direcetd by Ivan Dobchev
Georgy Kaloyanchev and Stoyanka Mutafova